Service Area: Marshfield Area
Meetings
Chapter Email:
Officers
President: Brad Allen – bjanorthwoods1@gmail.com
Vice President: Randy Dragt – randydragt@yahoo.com
Secretary: April Onsager – alonsager@yahoo.com
Treasurer: Keith Merkel – kkemerkel@yahoo.com/ 715-650-2843
web manager: 

Donations can be mailed to: Yellow River KAMO – C/O – Keith Merkel – 11722 Robin Road, Marshfield, WI 54449
JAugust 17, 2019
Yellow River Chapter participated in a program called "snapshot" toward the Medford area along the edge of the Chequamegon Nicolet National Forest.  We were introduced to two hosts, both from the Stevens Point U.W. Campus.  While we waited for any joiners outside of the provided shelter, a wonderful ski lodge, one of our hosts walked us through some some of the landscape pointing out various invasive species of plant life.  While on our roam, one of our young men with a camera came upon a very friendly butterfly that Chris, one of our hosts, explained was a viceroy.  
We proceeded into the shelter where we had a short tutorial on invasive aquatic plant and animal life, and how to identify and record this information.  We broke into groups of three, and with maps, baggies, rakes and nets, we headed for our destinations.  We met back at the shelter in an hour, and went over our findings and samples. 
Both of our hosts were friendly, knowledgeable, and enthusiastic about their work.  We learned much about the environment, about invasive species, and why they must be monitored.  We made new contacts with much closer ties to our neck of the woods, and will be in contact in the future concerning more youth activities, volunteer opportunities, and education.  We look forward to working with these two in the future!!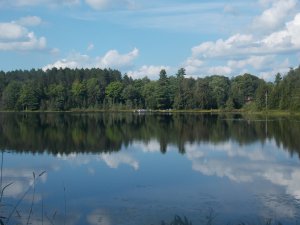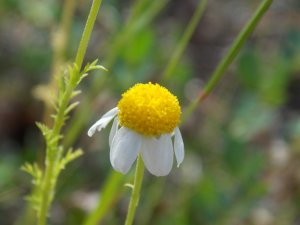 August 9th 2019
 DNR Volunteer hours at Little Plover River
Our Yellow River Chapter joined forces with a crew of nearly thirty others on the Little Plover River in the village of Plover to help reconstruct the channel, and protect the floodplain.  We cut down overgrowth along the shore,  bundled this overgrowth and reinforced the shoreline.  We were given a tour of prior work completed down stream, and we were able to see how trout are being monitored in this area.  We worked hard, we learned a great deal, we participated in a very worthy and ongoing local project that will protect our waterways for future generations.  After the work was completed, we were fed a hearty lunch, and we went home, tired, but satisfied with a good days accomplishments.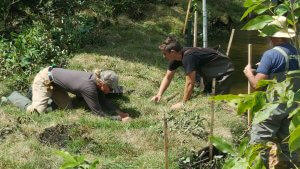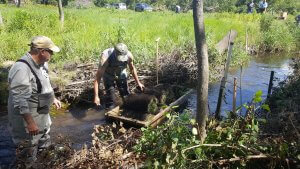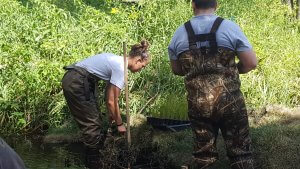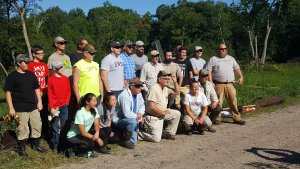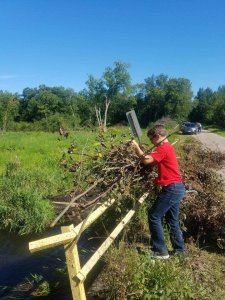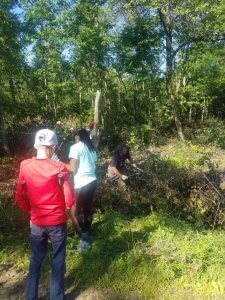 August 17th we will be heading to Medford to attend an aquatic invasive species worskhop.  We will learn about invasive water species, take samples in our local waterways and learn how to enter this data for the DNR.  Please contact any one of our officeres through their gmails if you would like to join us!!  website for this event is found at https://www.wisconsinrivers.org/statewide-snapshot-day/
                                                                                     upcoming events
                                                               planning August trip to Christie mountain
                                                              rock climbing, fishing, hiking possibilities
                                                               next meeting second Monday in August
                                                                         last meeting held 7/9/19
                                                             Mc Millan Marsh trail clean up 7 /9 /19
        Yellow river chapter of KAMO spent the afternoon assisting local DNR with cleanup on the McMillian Marsh.  Skies were blue, the sun was warm, the project was successful.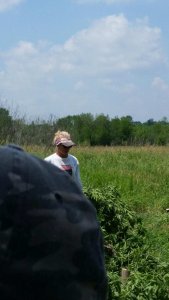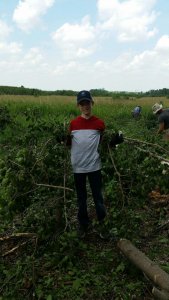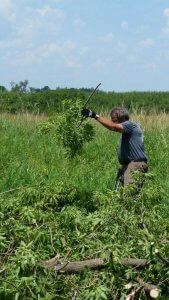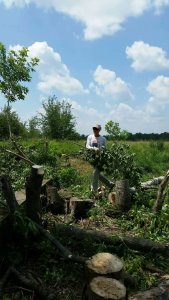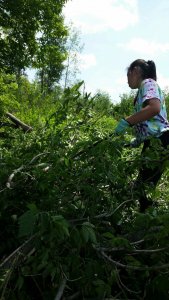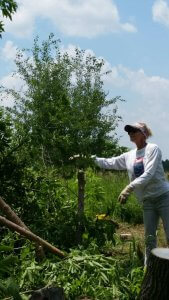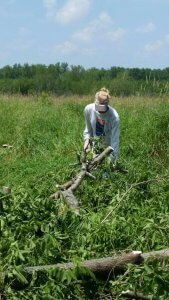 It was estimated that approximately 200 youth registered for this years event, what a success!!!!
                                                            The Yellow River Chapter of KAMO!
Hello friends
This weeks column is about never giving up, hard work, and good people!
Late August 2018
I parked my truck and a car trailer full of building materials under an over hang at Zion United
Methodist Church in Marshfield just before 6:00 p.m. with a plan/hope of meeting some people and starting the process of building a KAMO chapter in Marshfield.
One of my passions in life is to find a way to introduce as many kids to the outdoors as possible and that is what we do in KAMO.
Five minutes before I parked my truck and trailer an incredible storm hit and in a way that storm
would signify the ups and downs of the eight month project in front of me..
Some inside info on this is that some good people tried starting a chapter at the Meade Wildlife
Center, but it was just too far from a population and it fizzled out. When I found out in May that the ship was sinking I made it clear that I was not giving up and that I felt we needed to meet in a town or a city where more people would attend meetings.
For the next few months I casually sent out emails to people in the Marshfield area and a true
blessing came in the way of April Onsager. April is a strong Christian mother of three children and a person that under no circumstances was she going to give up on a KAMO Chapter in her area.
Brad Allen, another resident of the area,is a project manager for Keller Inc which is a commercial builder and also was the President of The Northwood Historical Society. An ace for KAMO was that our Vice President, Bob Nicksic of
New Lisbon was at that meeting and also wanted to make this work.
About all you can do at something like this is talk about KAMO and your hopes and dreams.
Fast forward to our September meeting, I may be mistaken but there was either only three or four of us but our attitude was positive and we made plans for October.
Bob Nicksic ran the October meeting and had a turnout of maybe 7 including his cousin Mike Nicksic who is the Marshfield Middle School Principal and just a great guy. I was on a hunting trip and talked to Bob directly after the meeting. Bob was positive but he was also clear that he wanted this group to start growing some wings.
We met at the Northwood Historical Society all fall and at the December meeting there was maybe 7 of us and my main thought was these guys needed to get outside with some kids and do something.
At this point there were maybe 7 folks involved but they were becoming a ?core group?. It was at that meeting that Mike Nicksic stepped up to the plate and said he would host a get together on his
forested property.
January 6th
High 27 low 11
Today a KAMO Chapter was truly born. One by one members and parents with kids arrived at
Mike?s and for a bonus I had Ruby, Fire, and Ruby?s three week old litter of pups. Bill Dickerson who is a solid member of the Meadow Valley Chapter had bought his five air rifles and taught the kids a lot. There was a campfire, food, some education, and a hike.
April Onsager made a video of the event before the day was over and we made our next plan which was a kids fisheree. These guys and gals were now a proud group and gave themselves the name of The Yellow River Chapter of KAMO ?formally MarshPoint? check them out on facebook.
This past Saturday we had a fisheree on Lake Dexter just for kids and at first our world fell a part or should I say sunk as the ice on our lake had sunk due to heavy snow and was all slush.
The Yellow River Chapter of KAMO was not going to be stopped. We used shovels and made piles
of snow about 6-feet wide for about 150 yards. The kids could walk on the snow and we drilled holes to fish out of on the side.
There was snow shoeing, playing on snow piles, wrestling with my crazy dogs, and one boy that
loves taking pictures. With great pride I realized that this chapter now has a core group of 11 and by that I mean in it to win it people and several folks that will help on occasion.
Our website is www.kamokids.org. We have chapters in several parts of the state, no one is paid,
everything is free for kids and I urge you in what ever way you can, to be a part of KAMO.
Long live Yellow River! Sunset
P.S. KAMO members also do one on one mentoring or small groups!
This was a Yellow River Chapter event, March 2, 2019.
It was a tough day fishing but sure was a good day playing.
click on the icon to visit our facebook page